What are you doing about COVID? Should we register or wait? What if it isn't safe? If we register will we lose our money if its cancelled? This is a year unlike any other! We will only run the program if it is safe to do so, period. We will of course follow all requirements, guidelines, rules etc. We will do everything we need to do in terms of social behaviors as well. And as we get closer to camp we will constantly re-evaluate the safety and viability of our programs and we will be in communication here and with our registered students. In terms of refunds we have made all payments refundable until May 15th, because we are confident we will know well before that what the summer will look like… and… given there are kids from last summer already registered and a huge pent-up demand for camp, we anticipate being sold out so reserve your spot early!
What makes the Summer Culinary programs different than any other program? Culture, kitchen, and chefs. Our culture of foodie excellence is amazingly fun and awesome. And it is our professional teaching kitchens and pro chefs that make the difference while students are in the kitchen all day. Ask any other program where they cook, what they are using to prepare food, and who are the instructors… we hear stories like "Jake only got to use a hot plate! A hot plate?!?! In a regular classroom at a boarding school! Help!" Don't make the same mistake Jake's parents made!!! We got you.
Do you have references? Yes! Call or email us.
I love cooking, but I'm not good enough (at all) to think about competing on TV for Chopped Jr. Is this program too advanced for me? No not at all. Many of our high school cooking students are newbies, fresh, and they aren't mad experienced in the kitchen. They just love to cook. That is all that is required of our students, that they love to cook and love food and all of that. We have and accept all skill levels. We divide up into small subsets and groups so each set of students can be challenged and learn at their own ability.
How do you keep the kids safe when you travel around town? Are there chaperones? Student safety is our number one concern. Staff chaperone our students every step of the way. While we can never 100% guarantee anything, we 100% do our very best to ensure that safety remain our top top priority!
Who will my roommate be? What is my room like? Is the dorm nice?Roommates are matched by age and geography. We mix international students with American students to maximize socialization. Staff live on the same floors as students to provide maximum supervision. All of the Culinary Summer Residence Halls have these items in common: Full air-conditioning, doubles, in-room bathrooms, safe clean grounds, access to activities and social spaces, and much more. We go for luxury, safety and proximity to the best in each host city…. not 'big name' schools with so-so dorms or so-so schools with so-so facilities!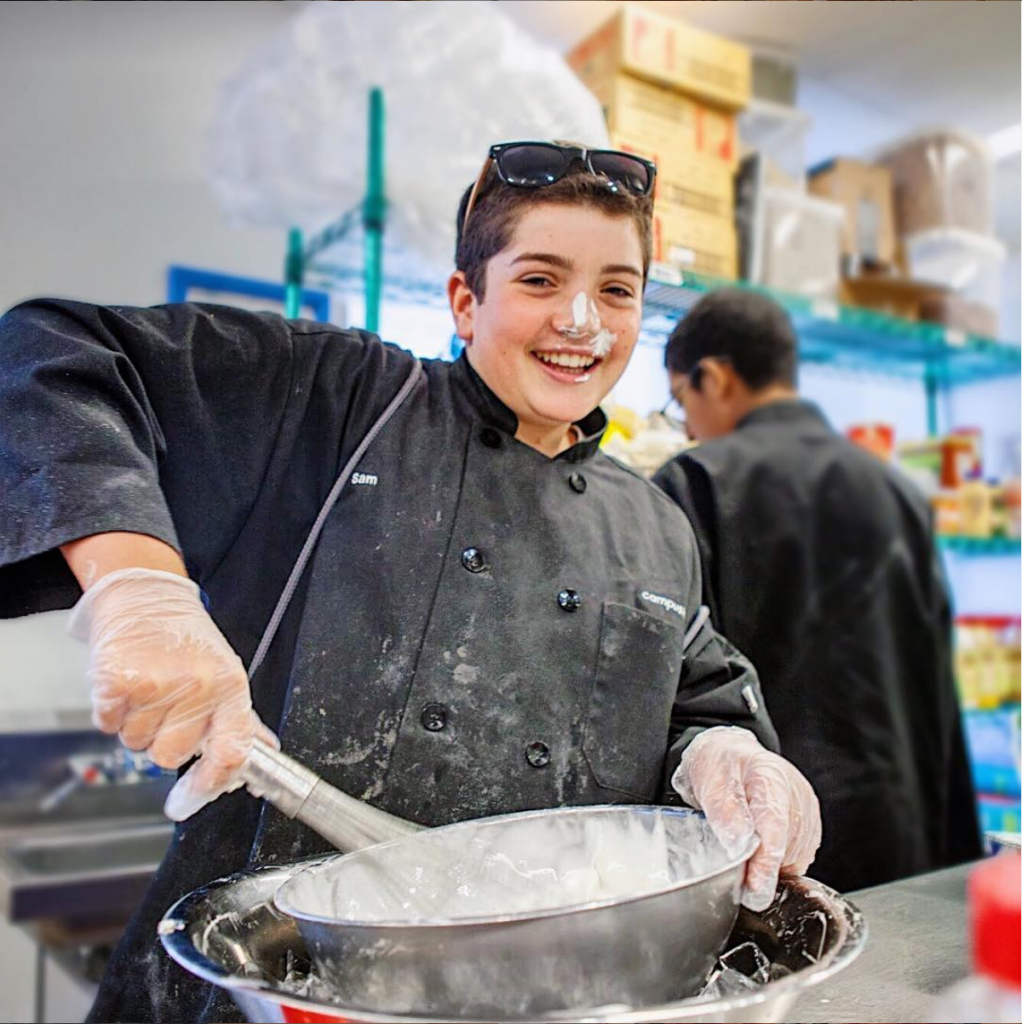 I'm flying to camp, can someone pick me up? Yes! we offer airport pickup at all our locations for a small fee. Please see the individual site locations pages for details or just call us. We do this all the time we have it down.
Do international students attend this program? Yes! As much as 25% of the program each year has been international. Students from Germany, Switzerland, France, Hong Kong, Japan, Russia and other places have all enjoyed a fabulous time with us.
Can I bring my cell phone or lap-top? Phone yes, laptop no. We have a no-cell-pone policy while actively cooking; feel free to take pics of your food creations upon completion of our high school cooking program!
How do I get my welcome pack? Welcome pack pdf's are emailed to the family immediately upon registration at our premier summer cooking program. Nothing else is sent to you, and nothing is ever sent through the USPS snail mail. Check for your email and call us if you need anything!
How old are Summer Culinary? Our student age range is quite diverse.  We have 12-year old students to 17-year old students, and each age in between.  Our program will have enough of each age represented, so your student will be able to make friends and hang out with similar-aged students.
What if my student is vegetarian, vegan, keeps kosher or has food allergies? No problem! We will substitute a different menu item / protein to replace meat or animal by-products for those who do not want to learn to cook, prepare or eat those items. And of course we will watch out for food allergies! Just let us know. Kosher meals are not provided but we can make efforts to connect to kosher food service as needed, please contact us to discuss.