3 Locations. 1 curriculum.
Pro chefs. Pro Kitchens.
Our cooking camps program is designed for all skill levels. We have had newbies and we have had kids go on to participate in and even win Chopped Junior or Masterchef Junior after attending our program. Come as you are, we got you from there! All you need is a love of food and a desire to learn.
CLASSROOM ACADEMICS
Our students get formal classroom time in addition to their kitchen time each day. This enables our students to learn and get formal training on concepts, skills, and techniques:
Knife Skills and Safety
Kitchen Safety rules – 'call it out!'
Nutrition and Health
Label Reading / Deciphering
Ingredients / Substitution
Kosher, Vegetarian, and Vegan Alternatives
Plating
Saucing
Presentation
Food Photography
Demonstrations and Special Guests at each location: We have had food bloggers, food photographers, and other experts talk to us at our cookings camps about their craft and how to achieve the best possible results in all aspects (including posting awesome pictures on social media!) Check back or even better call or email us for the latest info on who is visiting, we are adding events all the time. Visit us at campusNYC, campusLA and campusATX.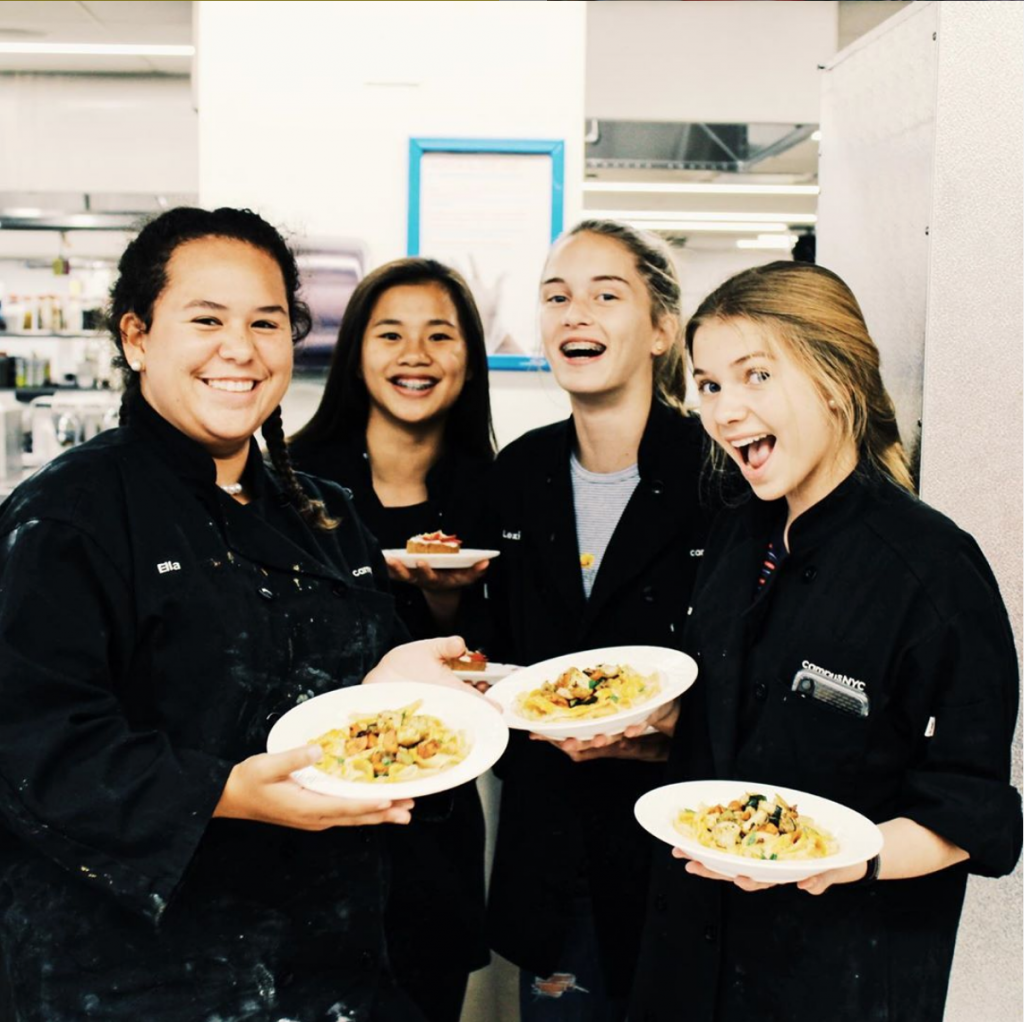 FINAL FRIDAYS: Our TV-style Competition
At the end of each session of culinary arts summer class we have a TV-style cooking competition on the last day, Friday afternoon. If you watch the shows, you know what we mean! Who will chop their way to victory this summer?
The competition in our culinary arts summer class is all in good fun, and students are placed in teams and tasked to make any appetizer, main course and dessert from the curriculum across the two weeks. Judges can include local chefs, foodies, food bloggers, and more. Students work in teams and choose the recipes they want to present to the judges.
This summer parents can view the programs in Los Angeles and New York City via Zoom due to size restrictions. Our Austin location features a spacious patio where parents can actually sit and attend, see their student in action, and try samples from each student group!
Sample winning recipes – all made from scratch by students:
Savory: Pan-seared plantains stuffed with chorizo and caramelized onions topped with avocado crema over lime and cilantro arugula
Savory: Blue-cheese butter-stuffed pan-seared chicken with quinoa and carrots drizzled with cherry-dark chocolate sauce
Pastry: Cherry clafoutis with a chocolate ganache and whipped cream garnish. Served with lightly spiced donut with an apple filling and an apple cider glaze and fresh peach sorbet.