Austin Cooking Camp 2023
We are the world's biggest and best summer cooking camp. Our professional chef instructors teach students of all skill levels in commercial kitchens, making everything from scratch.
We have created an experience unlike any other summer program out there. We foster personal growth and development in the areas of independence, leadership, collaboration, self-care, empowerment, advocacy, creativity, and future-forward thinking.
*Update 4/17: Session 3 is now SOLD OUT*
Learn more about our day and overnight culinary summer camp below, and find out more about professional kitchens, our 100+ recipes, daily schedule, and more.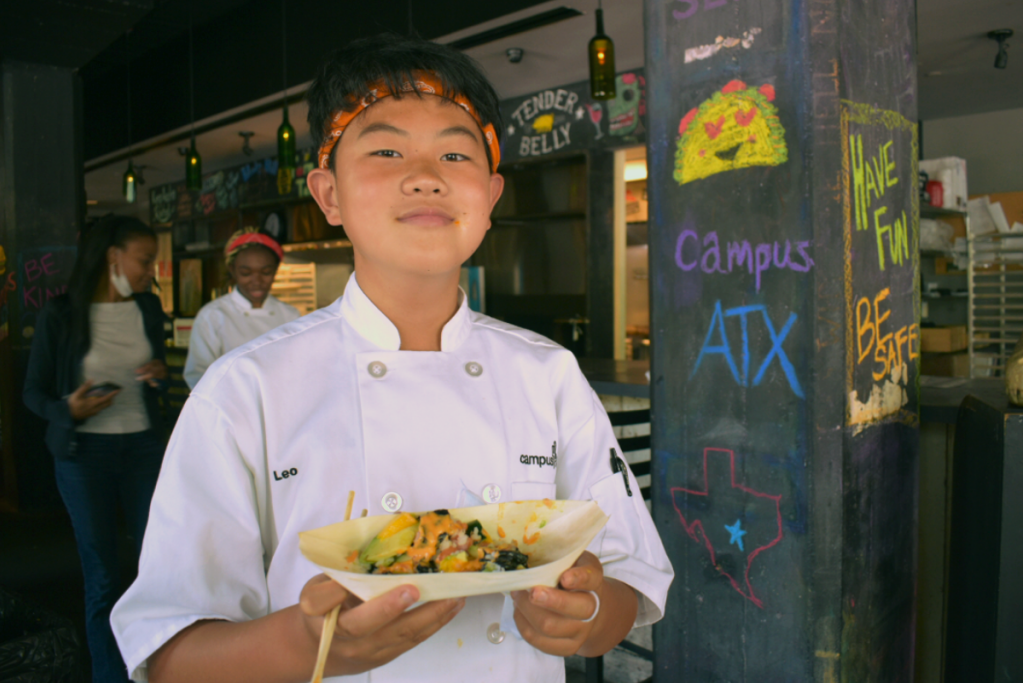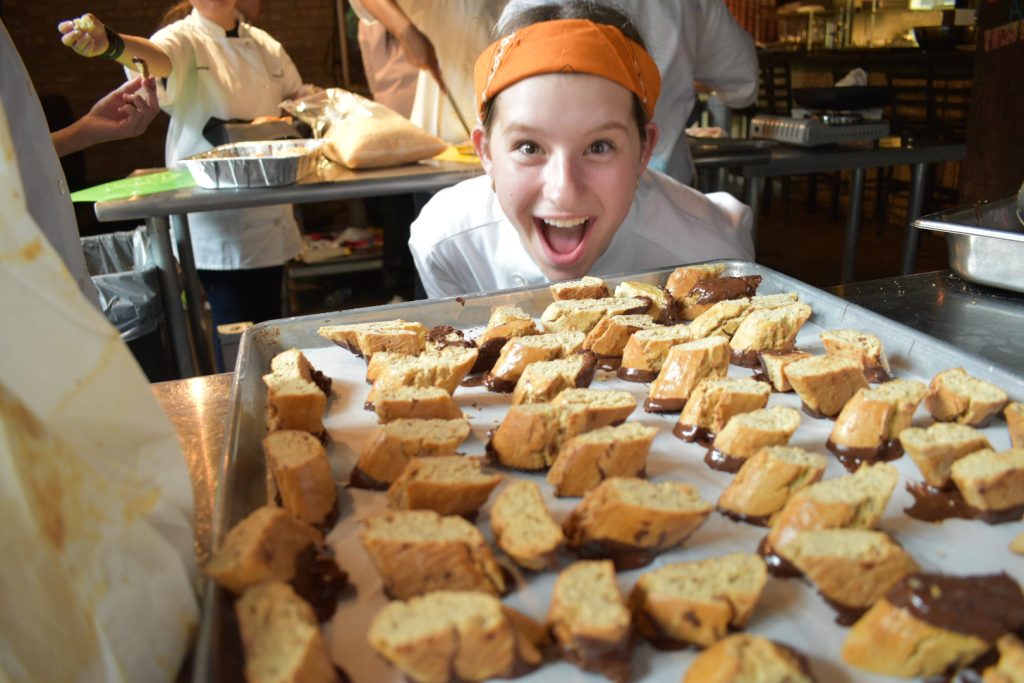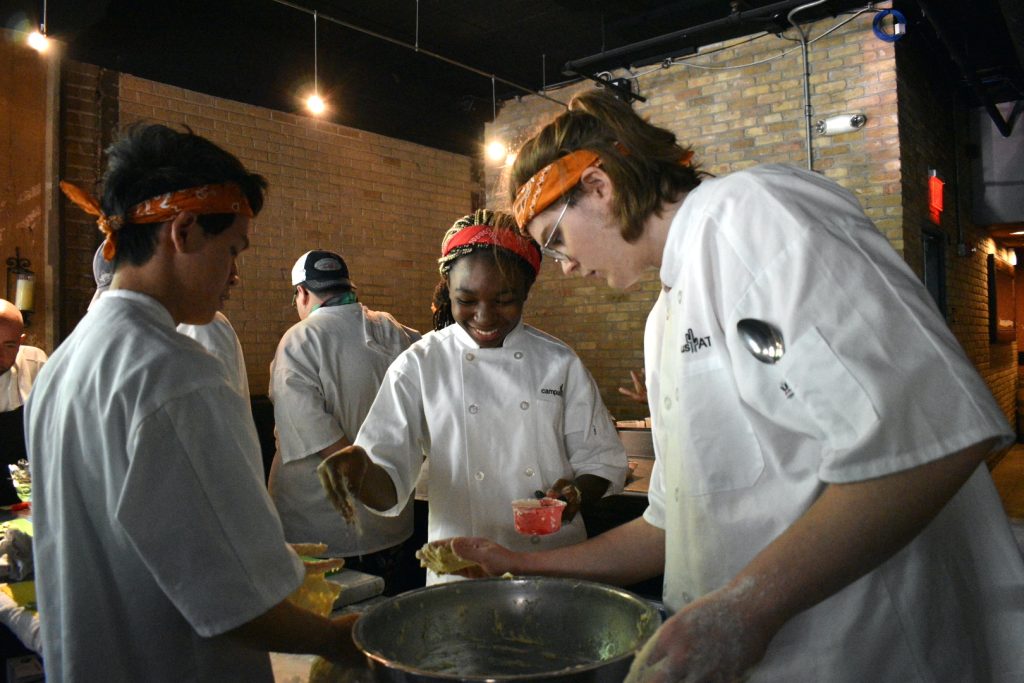 campusATX Program Details
2023 Dates
3 one-week session options
Session 1: June 18 – June 24
Session 2: June 25 – July 1
Session 3: Sold Out
Kitchen
GhostLine Kitchens
3400 Comsouth Drive
Austin, TX 78744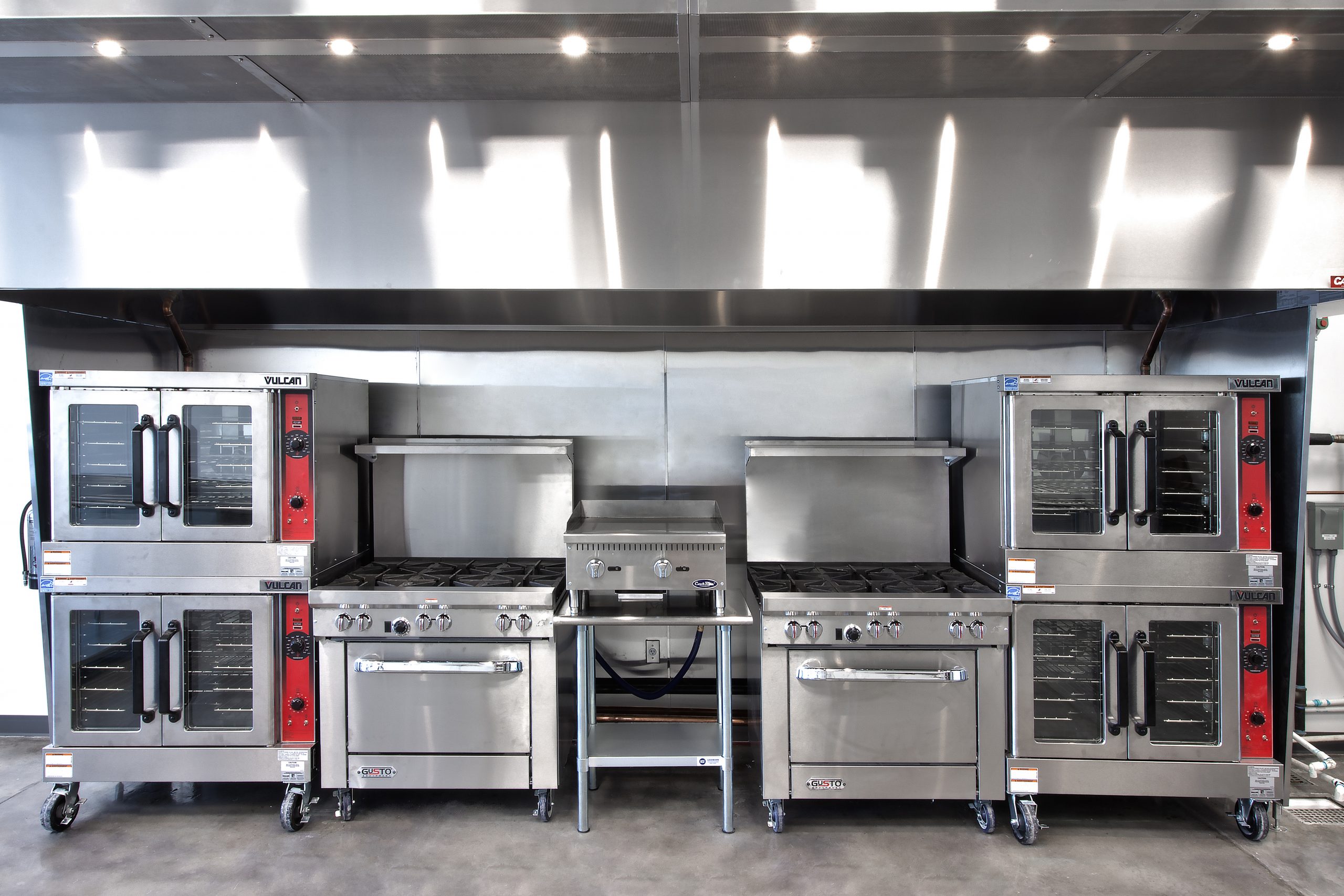 When it comes to the Summer Culinary family of programs, it always starts with the kitchen. This is the premier summer cooking camp: pro chefs in a pro kitchen.
The kitchen is the heart and soul of our program and in Austin we have a great professional kitchen in a fantastic new commercial kitchen called Ghostline Kitchens. As always at Summer Culinary, a pro kitchen staffed by pro chefs is the recipe for a great experience!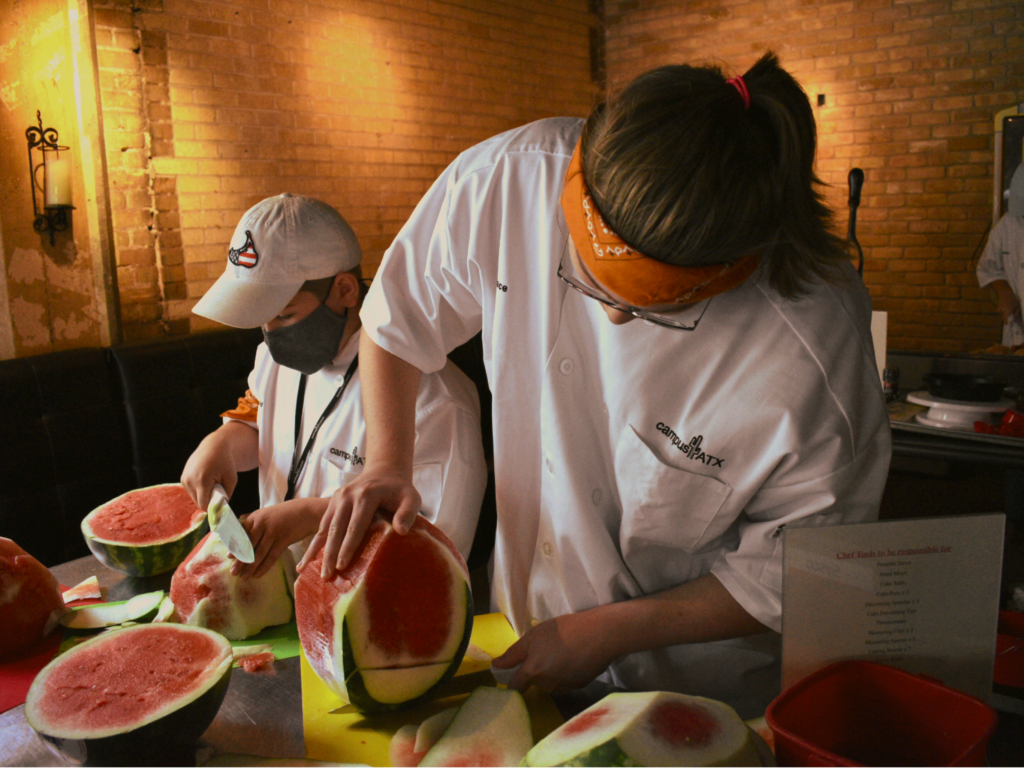 DAILY SCHEDULE
Here is what an average day at campusATX looks like:
8am – 9am: Residential students get up, get dressed and have breakfast at Hardin House
9am – 9:30: Get ready and depart for kitchen in an air-conditioned bus
9:45am – 10am: Day students arrive, get ready. Residential students arrive and get ready.
10am – 6pm: All students are in the kitchen. They take part in skill development exercises like knife skills, and they cook their own lunch and dinner as part of the larger culinary instruction. Everything is made from scratch and everyone cooks!
5pm – 6pm: All food is plated and readied for demo. Everyone takes pictures of their plated food. Chefs inspect, taste, discuss and encourage students. Then everyone eats and packs up.
6pm: Day students head home, residential students go back to dorm in the bus.
6:30pm – 9:30pm: Some evenings the students just want to sit by the pool, swim, and enjoy the amenities of Hardin House which is very nice. Some evenings they clean up and head out to enjoy Austin. Last summer we went bowling, to the movies, visited the food trucks, Voodoo Donuts and all the other places listed here. These evenings are student-driven and we are flexible too, so depending on the day and the mood we do all sorts of fun stuff! See below for details of specific destinations.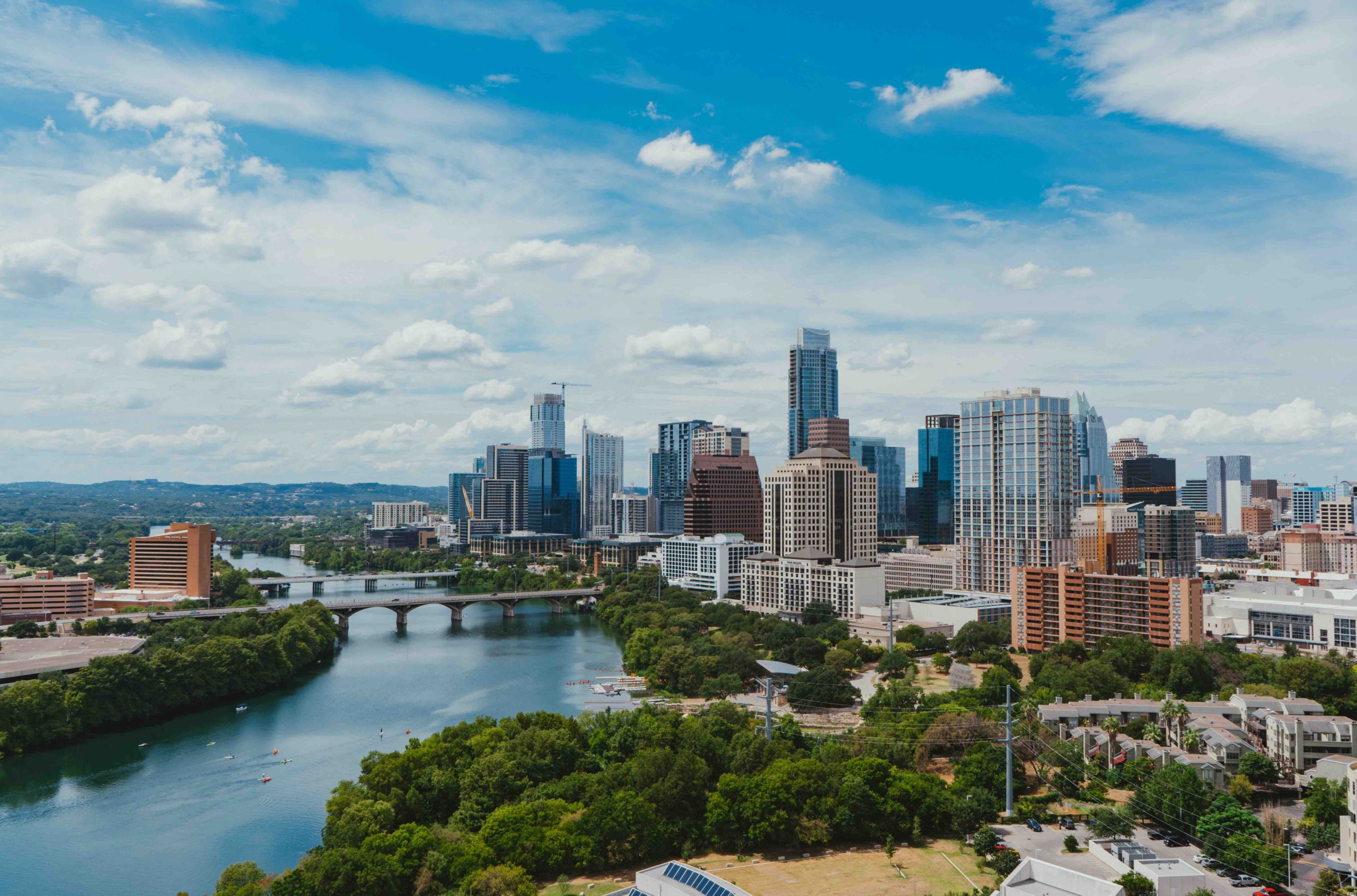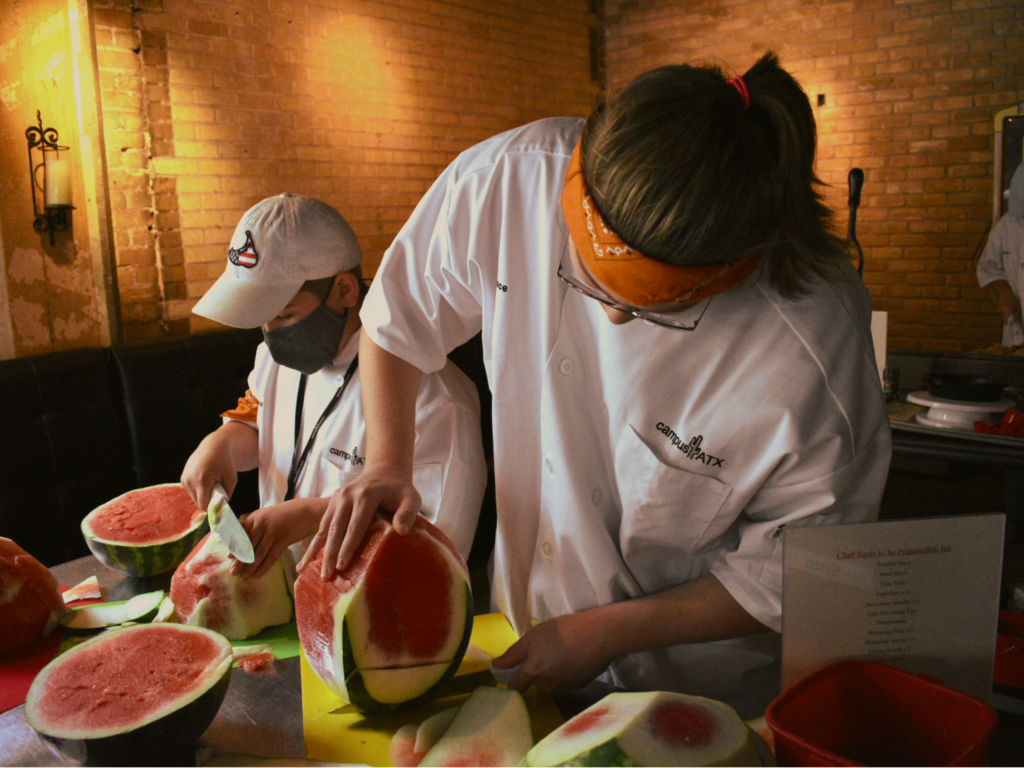 Austin has become one of the coolest cities in the world. Come see why!
Most of our nights are chosen organically and are student-driven.
Last summer the best part of the program (other than the kitchen work of course) was the chance the students got to make new friends, with like-minded interests, and to spend some amazing time together.
Food Trucks
The Food Truck revolution lives in Austin! Maybe because the trucks go to very cool spots where lots of people are up to amazing things…. and talking to the operators, seeing what they make, swapping tips and recipes…. this is a required trip during the day for our Texas cooking camp! We also do an exercise in the kitchen where we invent our own food truck concept so this counts as market research!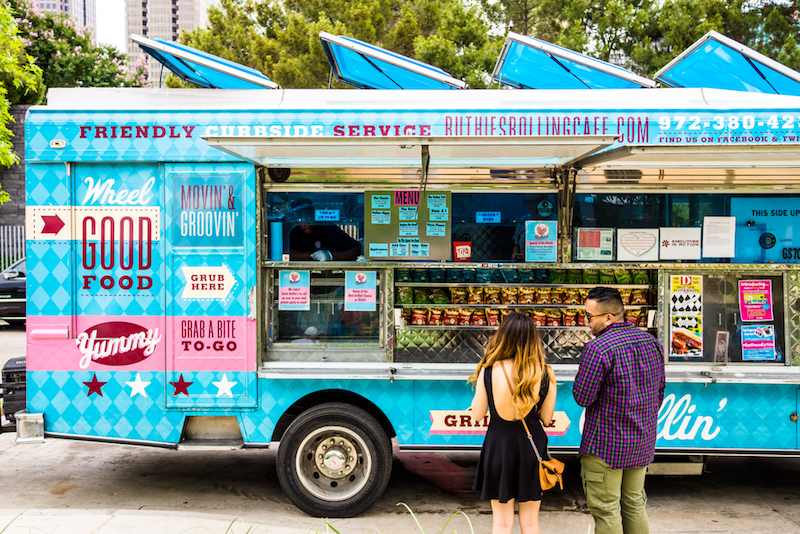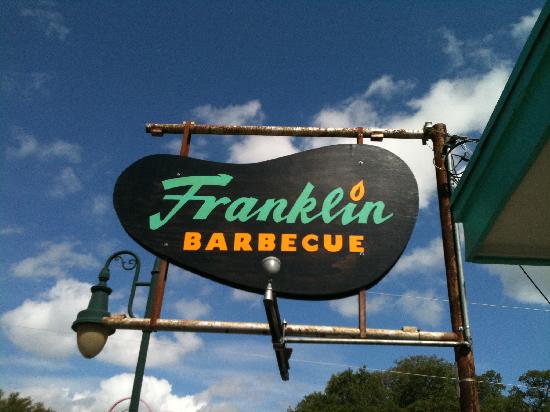 Franklin BBQ – a certain Rogue Squad stop
Franklin Barbecue is literally the most famous and well-known barbecue shop on the planet (as far as they would say!). A stop at Franklin is really a must for anyone who eats meat, and a double-must for our budding chefs. The cooks at Franklin are happy to share with our students… and we are happy to soak it up!
Shopping on South Congress
Our students will have the chance to pick up unique Texas finds, souvenirs, tasty snacks and funky cool shops when we make our way to South Congress. This area has all the quirkiest shops and a ton that you already know. It's a great place to grab some Amy's Ice Cream, try on cowboy boots, and relax with a little retail therapy.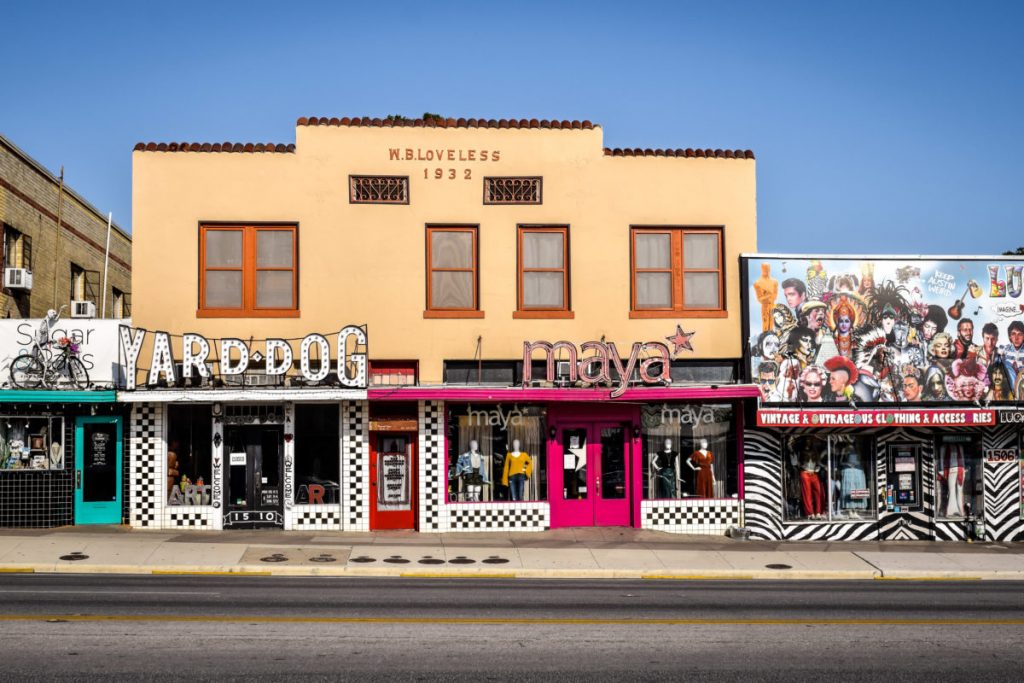 Evenings
One of the best parts about our program is all of the fun we have when we aren't in the kitchen in our cooking classes. For our residential students, this mean exploring the Austin community and surrounding area. Check out this gallery of fun pics from last summer! Our goal is to seek out the fun, safe cool stuff to do… when we aren't sitting by the pool that is!
Event Nights are when we as a group go to one awesome destination together!
Roque Squads: Our students created the term "Rogue Squads". That is when our students break into small pods – with a counselor in each pod – and they form a squad and they go out on missions that THEY create.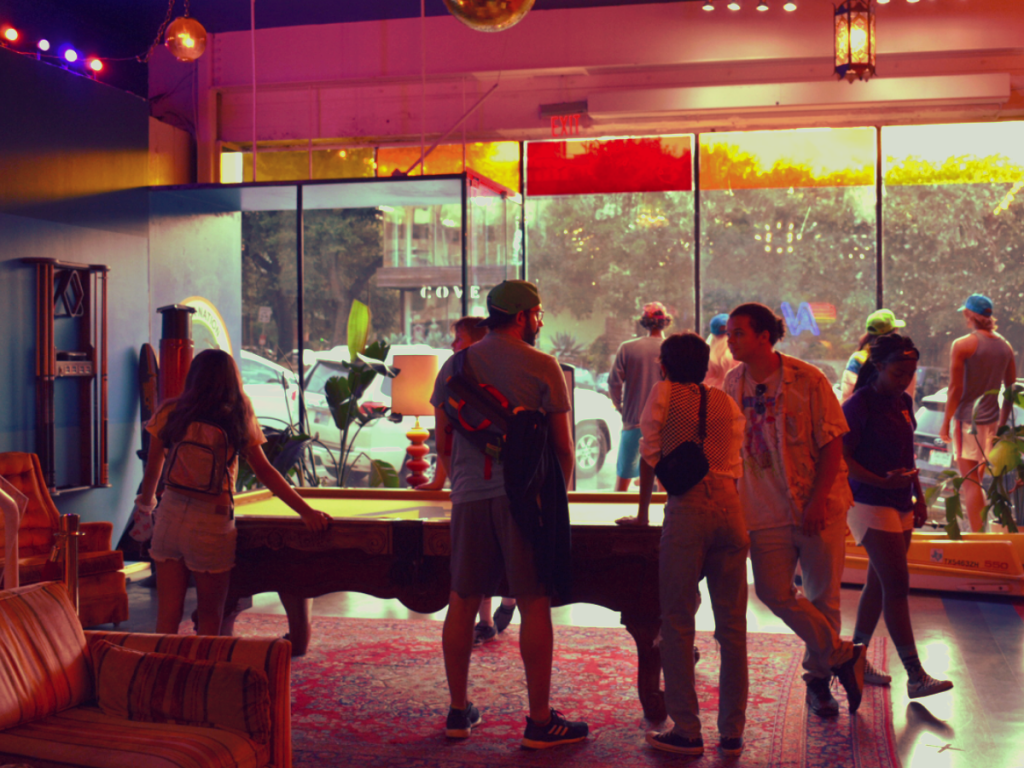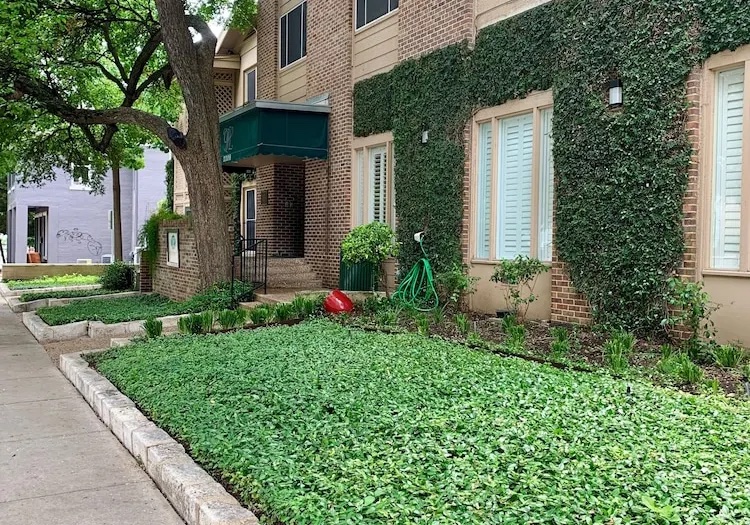 Residential cooking camp program: Hardin House
Luxurious private university housing located next to the UT campus.
Hardin House is a fancy all-women's residence hall during the academic year and open its door to a couple of select co-ed residential camps during the summer. We are lucky to be one of them! They say: "Hardin House's trademark is a reputation of performance. This is why people want to be a part of the privileged and talented group of residents who appreciate and enjoy the fruits of that philosophy."
The property features numerous outdoor pools as well as social spaces, tv lounges, computer labs, gardens, patios, terraces and much more. It's a lovely safe clean high-end and secure place in the middle of the action yet secluded and secure for our cooking classes students. We love it! We also love the pools at our campusLA location!
Hardin House is located at: 2206 Rio Grande St.,Austin TX 78705 or click HERE
Safety: the only way in and out of the Hardin House complex is through the main door which is staffed 24/7, which adds a level of security and oversight that we like!
Bathrooms ensuite: All of the rooms at Hardin House have the bathroom in the room, so all students are only sharing a bathroom with their roommate. No walking down the hall in a towel here! This is such a nice and convenient way to spend the summer.
Last summer our kids spent a lot of time at the pools and in the main building, which we took over! This really was the heart and center of the program for our cooking classes residential kids. They got to just hang out with other kids who love to cook and are basically awesome actually. Be the main character, try on a new future now at our Austin, Texas cooking class in Austin because honestly, last summer was just about as much fun as any of us could have imagined! It was the time in the dorm, new roommates, just hanging out, that after all was said and done may just have been the best part….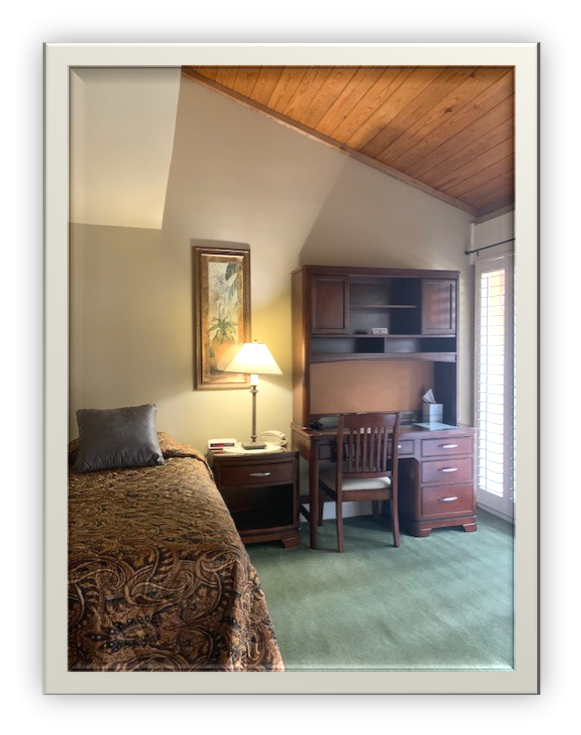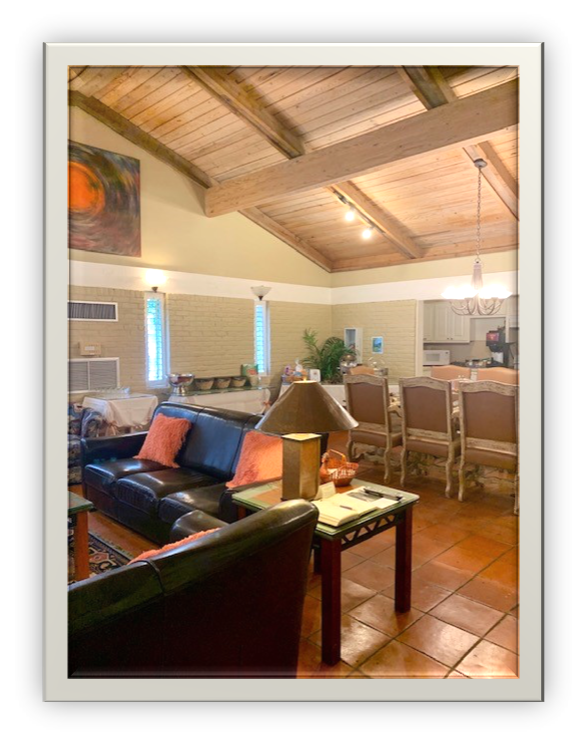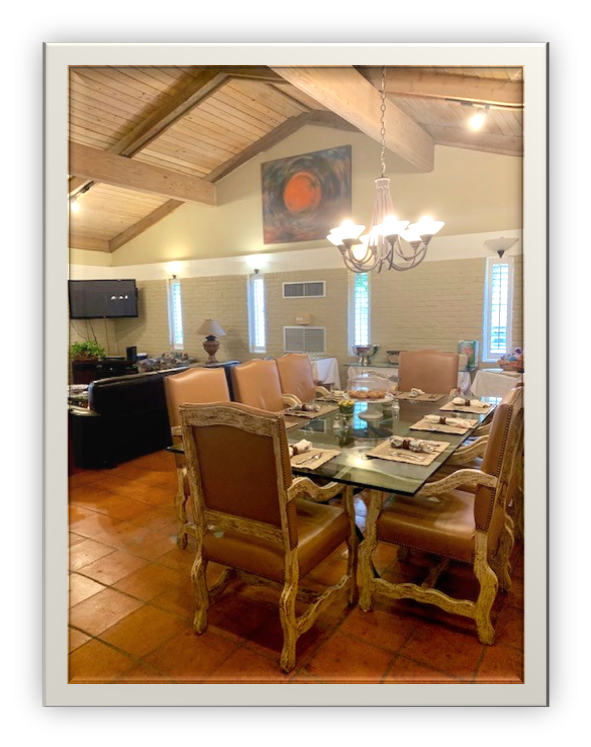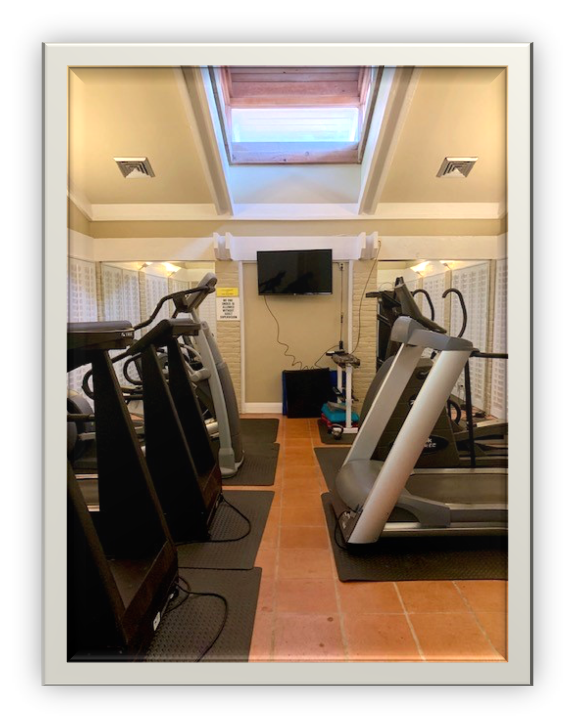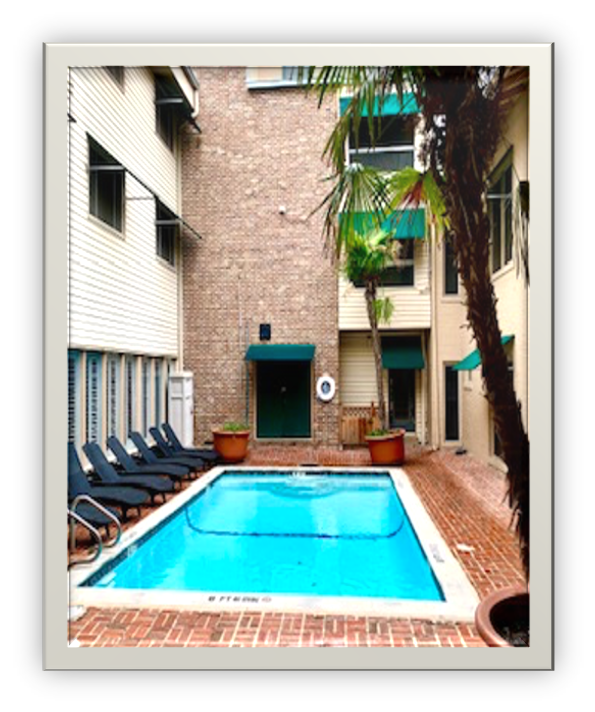 Contact Us
Have a question or comment?
Send it to us in the form and we will contact you ASAP!
Cooking Camp: Student Testimonials
"My favorite thing about campusATX was the general experience of what it's like to work in a professional culinary setting"

– 2021 campusATX student
"I liked that everyone was able to be friends with each other, including the counselors."

– 2021 campusATX student
"Campus ATX is a fun place where you get to experience what it's like being a chef. Not only cooking but working together in a team, washing, plating, it's a great experience for somebody who is looking for a career in the culinary arts. Another thing I liked is the afternoon activities. I personally looked forward to each afternoon activity. The activities were fun and cool. All in all, it was a great experience."

– 2022 campusATX student
Learn more About our Cooking Camp in Austin
Our Austin cooking camp for teens is a program that is specifically designed to teach teenagers the fundamentals of cooking, food preparation, and kitchen safety. Prospective students can either attend our overnight cooking come or commute day to day to our kitchen location.
The main goals of our culinary summer camp are to teach students how to prepare a variety of meals, from simple snacks to more complex dishes. They will also learn how to use various kitchen tools and appliances, such as knives, ovens, and stovetops, and how to follow recipes and adapt them to their tastes and preferences.
Cooking camps for teens can be a great way for young people to develop important life skills, such as teamwork, time management, and problem-solving, while also having fun and building confidence in the kitchen.
Outside of cooking, our overnight summer camp in Austin can be a great way to build independence and self-confidence in your teen. Living away from home for a few days can be a daunting prospect, but it can also be a valuable opportunity to learn how to take care of yourself, make your own decisions, and navigate new social situations.
Check out our other Summer Culinary Camp Locations
Denver Culinary Camp – Enjoy the mountains, the fresh air, and everything that Denver Colorado has to offer.
Los Angeles Culinary Camp – Get a head start on your path to stardom at our cooking camp in Los Angeles California!
New York Culinary Camp – Experience the hustle and bustle of the city that never sleeps. Learn how you can become a Michelin star level chef this summer in New York.
Seattle Culinary Camp – Soak up everything Seattle has to offer this summer, while you learn how to take your cooking skills to the next level.
Washington DC Culinary Camp – Learn more about America's capital and advance your culinary skills this summer